Supporting the Community
We love to help organisations that benefit the community. If you are a not-for-profit organisation we may be able to provide you with free services.  Alternatively, if you are a commercial entity we provide a sponsorship which can benefit both organisations. For further information on our eligibility criteria please contact support@zetta.com.au.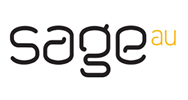 SAGE AU – We are a Silver sponsor of the System Administrators Guild of Australia (SAGE-AU).
RTRfm 92.1 Radio – We are proud to be a media sponsor of RTRfm 92.1 by providing virtual servers. live audio streaming and internet connectivity.